DECENT BAG INDUSTRIES LTD.

Off. 11 KM, Hadejia Road, Gunduwawa
P.O. Box 12717, Kano, Nigeria
Phone: +234-8034080823
Fax: +234-6463185
Email: info@decent-polybag.com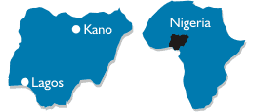 Decent-Bag is located in Nigeria, West Africa. It is near Kano, the capital of Kano State. Kano has an international airport and it can be reached by car and train.